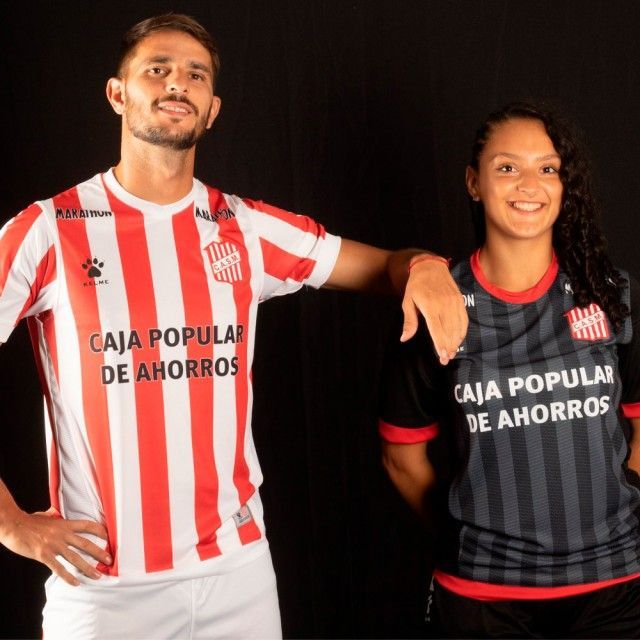 KELME AND CLUB ATLÉTICO SAN MARTÍN PRESENT THE KITS FOR THE NEW SEASON
Club Atlético San Martín opens a new phase of apparel with Kelme, a Spanish brand with more than 60 years of experience and current Official Sponsor of the Argentinean Basketball Confederation.
Club Atlético San Martín de Tucumán is an Argentinean multi-sports club that plays in the Primera Nacional, the second category of Argentinean football. The club was founded in 1909, which has allowed it to have a long history in the football world. 
San Martín is one of the two Argentinean football institutions, from the province of Entre Ríos, that won official titles in AFA competitions, such as the Copa de la República, Primera B Nacional, Torneo Federal A... 
The first kit is inspired by the classic design, maintaining the essence of the Cirujo Club, you can see the red and white stripes aligned vertically with the elastic collar and cuffs in white, the details of the sponsors and the Kelme logo, are in black, giving a touch of elegance to the set. 
As for the second kit, it uses black combined with vertical stripes with a touch of dark grey, with red cuffs and collar that stand out against the black background as well as the white details. 
In reference to the goalkeepers, we find two shirts, one in green, which has caused a furore among the Club's fans, and the other in yellow, both are designed with almost transparent bars that stand out against the base colours.